Have you ever gone on vacation or been in a rush and forgotten your go-to products? And it isn't until you're already at the airport that you realize your cosmetics are in the makeup bag next to your front door, which was strategically placed there so that you didn't forget it...yeah, I haven't done that either! In all seriousness, I have forgotten my go-to products before and realized it in the car ride to the airport or at my hotel room. Or maybe you have the memory of an elephant (take that as a compliment) and have never forgotten any product, right down to your teal eyeliner, which you may or may not use with the outfit you have planned for Sunday Brunch. If the latter description is you, then maybe your makeup bag is weighing you down! Bottom line, no matter which category you fall under, this blog post may be helpful.
I have scoured the Internet, and now, I think I have a great collection of some I tips I already knew, some that I'm still playing with and some that I can swear by! So, maybe you can rethink whether you need to bring all that makeup with you, or maybe, after reading this, you'll be able to make the best of what makeup you did remember to pack!
Lipstick Is The New Hero for Dark Circles!
Apparently, there is some serious science behind this. If you look at a color wheel, you will see that orange-red is opposite from blue, and combining the two will cause color neutrality.
iStockphoto / Via Getty Images
Picking out the right color of red-orange or coral lipstick is something to play around with. The deeper your skin, the more reddish orange you can work with. If you have a more medium or tan complexion, try to go more toward a warm coral, or if you have a light complexion, try a more yellow, peachy shade (and, if you are in this boat, maybe a color concealer would work better than lipstick).
The Blondeshell / theblondeshell.com
I've noticed that, if I go with a straight red, even after I blend it well, I still see a hint of pink popping out. A warm coral color is my go-to! Also, if you have the color you need in a cream lipstick, go with that, as compared to a matte lipstick, just because it's easier to blend. Make sure you do the lipstick first with an eye shadow brush, and then put your foundation, concealer and powder on top in order to set it. I like to blend my foundation and concealer with a
beauty blender sponge
. This trick also works for any dark pigmentation left over from acne scars. Now, you can say bye-bye to dark circles and spots!
Deepica Mutyala / Via birchbox.com
Highlight Like The Golden Goddess You Are!
The key to using an eye shadow as your highlighter is all about shimmer and not glitter. Shimmer is a shade that will give you a luminous, subtle sheen. Glitter is all about the sparkle, with tons of little particles reflecting light. Unless you're a little girl throwing a princess party, you do not need any glitter on your face, unless of course you are Kesha (in which case, do your thing!). I hope that most people who have eye shadow palettes have one of Urban Decay's Naked Series (if you don't, other neutral palettes will work, but we are using the Naked Series as a convenient example). If you do have a Naked Series palette, either Naked or Naked 2, then you have a pan called
Half Baked
, which is the golden-bronze swatch with a shimmery finish. Use a highlighter brush and give your cheeks that soft glow!
Sephora.com / Urban Decay Naked 2 Palette
Matte Is In... In More Ways Than One!
Matte lipstick and matte eye shadow are both components of a current and ongoing trend. The best part of this trend is that you can use your matte eye shadow as a brow filler. Taupe (Warm Taupe) works well for blonde and silver/white brows.
For brunettes, I would stay away from warm browns and go more towards an
ashy brown
(Rich Brown). I'd suggest a
warm brown
(Hot Chocolate) for auburn hair because the warm tone will look more natural than an ashy brown color. And lastly, if you have brown black or jet black hair, I would stick to a
charcoal brown
(Smoke). All of these eye shadows, which I linked, are $12.00 on the
Anastasia Beverly Hills website
, except for the Warm Taupe, which can be purchased at your local Macy's in the Anastasia Beverly Hills pop-up store. Or if you want to test the colors before purchase, head to the closest Macy's and test to see if these are the right shades for your brows! The key is to find a neutral shade and to avoid any shadow with a shimmer or satin finish. (Unless you're rocking the teal hair trend... in which case, don't let me stop you by telling you what color to do your brows!)
Anastasia Beverly Hills Eye Shadows
Get yourself a small Z Palette, and you can call this your matte eye shadow/brow palette!
Prime Those Eyes With Concealer!
Do you see an oily shine on your eyelids that is looking back at you in the mirror? You, my friend, may be suffering from oily eyelids, which means you cake if you don't prime! Years ago, Urban Decay (as seen in the picture below) solved this problem with the eye shadow primer, but there have been times where I definitely forgot to pack this with me when I traveled.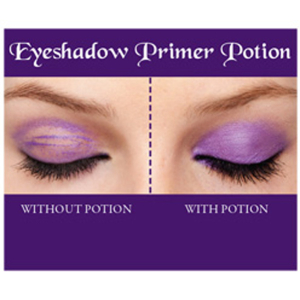 Urban Decay Eye Shadow Primer
Fear not because your concealer has got your back! Stick to a heavy-duty cream concealer, which will fill your crease better than a liquid concealer. I use my
Benefit Boi-ing
to take over when I forget my eye shadow primer. I personally use my finger, but you can use your brush. Just make sure you apply an even, and let it dry a bit before you start adding your shadow. After that, may the power of makeup last all day for you! Of course, I do recommend that you always use a
setting spray (Model in a Bottle)
to help your makeup last all day!
Go forth makeup lovers and enjoy these tricks!
Glammie Love,
Bex